Happy New Year to everyone. Here's hoping there will be continued success in 2014 for indies.
So, as usual, the landscape is changing year to year. A recent change is that a lot of trad publishers are lowering prices to compete in the market place. This is good for readers, not so good for indies. In fact, I've been hearing a lot of doom and gloom about this point. "How will indies compete?" "We've lost our advantage." "This is the END!"
Before we follow in Virginia Woolf's footsteps, let's analyse the situation a little deeper.
When self-publishing was new, some authors hit the big time and sold a zillion copies by using the 99c price point. Amanda Hocking, John Locke and others sold their books for a low price the trad publishers couldn't duplicate. Readers went mad for low-priced fiction and large numbers of sales followed. John Locke used his 99c price in promotion, saying that Stephen King had to be ten times better than him. (Because his books cost ten times as much). Locke had some other promotional practices, like buying reviews, which we won't go into here.
Then the indie market became flooded with a lot of bad books by people who were trying to catch hold of the mythical "Kindle Gold Rush" and the 99c books lost traction, being regarded by a lot of readers as 'bargain basket crap'. Some writers (myself included) experimented with prices like $1.49 for short stories to make their books stand out.
Putting the 99c debate aside, self-published books have always been good value vs their trad-pubbed counterparts. $2.99 for a well-written novel is damn good value. But now the Big Five are catching on and lowering the prices of
their
books.
The Indie Advantage is gone. Gone! (insert doom-laden music here)
Or maybe it isn't gone...
Maybe it's time we looked at some other advantages we have over the big dogs.
Adaptation
No, not the movie with Nick Cage. The ability of indies to adapt to change.
The market has been turned on its head since the recent advent of self-publishing and things have not settled down yet. Everything is still in flux. New trends arise, new superstar authors are made, there are even new genres (I'm looking at you, New Adult). If you were in charge of a company whose main business is selling paper books to distributors, how quickly could you react to these changes? If the next big thing happens to be Pearl Diver Romances, how quickly could you hire writers from your stable to churn out a series of Pearl Diver Romances, get editors to look them over, hire the cover designers to create the covers, then get everything to the printers before selling them to distributors?
Now, what if you're Susan Indie or Alex Selfpub and you notice the Amazon Top 100 being taken over by Pearl Diver Romances? How long does it take you to join the growing list of Pearl Diver Romance authors? How quickly could you catch that wave and reap the benefits of being a hot author in a hot topic?
And before the 'artistes' leave comments with words like 'mercenary' and 'money-grabbing', they should use their artiste heads a little. You can still write what you want to write and hit a hot topic at the same time. You write thrillers? I can think of dozens of plots for thrillers involving pearl divers. Mystery? Yes. NewAdult Romance? Yes. Science Fiction? Yes. Fantasy? Yes. You just use your ability to write what you want to write while acknowledging market trends. That's not 'selling out' is it? If acknowledging the market means the same as selling out to you, you're reading the wrong blog.
And if Pearl Diving fiction becomes a thing, I want credit dammit!
So there is a huge advantage indies have over the trad publishers….adaptation.
No, Nick Cage…not you.
Knowing
No, not the movie with Nick Cage. The ability of indies to know their audience.
Trad publishers know squat about the readers of the books they publish. They don't know who they are, where they come from or what their names are. Trad publishers sell to big distributors who then go and sell the books to bookstores. A trad editor might know what certain distributors like to buy but they don't know anything about the reading habits of Amelia Tench who like cozy mysteries, or Jack Force who like's men's adventure.
As indies we can do what the trads can't. We can interact with our readers. Facebook, Twitter, and mailing lists are tools in our arsenal that enable personal interaction with our readers. This communication goes a long way to building up relationships with our customers that the trad publishers don't have. We can put the personal touch on our product.
So in addition to adaptation, let's add knowing.
No, Nick.
Kick-Ass
No, not the movie with…
I'm talking about the ability to kick ass with what you write and publish.
You see, when it comes to deciding what books to put out, trad publishers are limited by release schedules, budgetary constraints and the need to make a profit. So in a lot of ways they have to play it safe. You, however, don't.
Just before Christmas, I decided I wanted to write a post-apocalyptic sci fi story which I would publish in serial format. So that's what I'm doing. Could a trad publisher make the same decision? Not without consulting others, forecasting profit margins, fitting the work into the release schedule, testing the market, etc. How many serials are there out there published by the Big Five? Not many. In fact they are very rare. Beth Kery springs to mind but not many others. Stephen King did it with the Green Mile (I still have the original little books somewhere) but he's Stephen King and publishers do what he says.
So here's an advantage you have over the trads: you can publish what you want, when you want, how often you want.
Publishers limit their authors to one (maybe two) releases a year. But you can get your name out there over and over throughout the year, gaining visibility and an audience.
You aren't limited by market forecasts . You want to release a book about a romance between two pearl divers? Then go ahead and do it. That's a freedom you have that trad publishers do not have. Want to release it in weekly instalments? You can do it.
So next time you feel like the trads are muscling in and shoving you out, remember you can kick ass in ways that they can never dream of.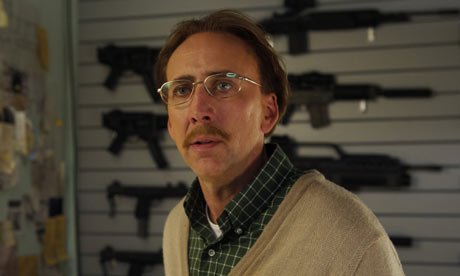 No, Nick. Just no.
"Argue For Your Limitations…
…and they're yours,"as Richard Bach said. If you want to make it in this strange world of self-publishing, you need to look at the positive position you are in. You have no limitations. You have the freedom to do what you want. Think about that for a moment. That is a great power.
Next time you feel like your self-publishing opportunities are about to be crushed by outside forces, remind yourself that you have advantages. Reduce the problems to what they are…an irritating piece of grit.
If you work around the grit, you could end up making a pearl